Clarkson replaces Canada Prep as number one; first time Canada Prep not number one in 3 years of the CFC10 poll
#footballNorth huge win pic.twitter.com/R7VPpiIOtv

— Football North ?? (@FootBallNorthca) September 2, 2017
Clarkson picked up their first win of the season against an athletic Cleveland Heights Tigers team.  CFC100 Clark Barnes had two touchdowns and a field goal in the contest and fellow CFC100 Nick Mardner added a touchdown of his own.  The defense was led by CFC100 Kail Dava and defensive back/returner Kevin Nsabua had a solid game in both roles.  Clarkson travels to Huber Heights to take on Wayne's Varsity team this Friday.
Electrifying touchdowns by CFC100 Arthur Hamlin (95-yard kick return) and receiver Kevin Victome (85-yard pass and catch) were the high lights for an otherwise dismal performance by St. Joe's.  Missed tackles, big mistakes, penalties and an inept offense plagues the very young team from Ottawa.  They hope to reverse the trend against the Big Red in Steubenville this Friday.
Brook Hill Guard charges past Royal Imperial Collegiate 51-27 to win their opening game of the season! #allorange #txhsfb pic.twitter.com/e3NPIPFCa1

— Brook Hill School (@BH_School) September 3, 2017
Royal Imperial made the long trip to Texas to take on Brook Hill.  RICC put together their best half of football to start the game, ending 30-21 after 2 quarters.  CFC100 Riley Boersma showed why he is the Knights best player going off for two touchdowns (9 receptions, 102 yards) while Czech QB Jacob Horacek was a respectable 19 of 34 for 196 yards.  The defense gave up over 50 for the 2nd game in a row as the Knights went down to Brook Hill by a final of 51-27.  This week they travel to New Jersey to take on Hun, a team they lost to last year by a score of 38-13.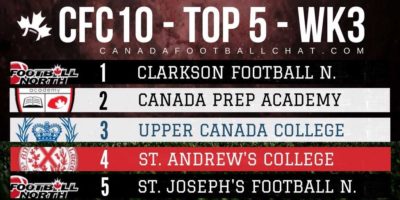 RK
Last
Team/School
City (PROV)
Overall
Last result
Next game
 
WK
 
Record
 
1
2
Clarkson Football North
Mississauga, ON
1-1
won 31-6 v. Cleveland Heights (OH)
vs. Wayne (OH)
2
1
Canada Prep Raiders
Welland, ON
0-1
IDLE
vs. Toledo Catholic (OH)
3
3
Upper Canada College Blues
Toronto, ON
0-0
vs. St. Michael's College
4
4
St. Andrew's College Saints
Aurora, ON
0-0
vs. Huron Heights (ON)
5
5
St Joseph Football North
Ottawa, ON
1-2
lost 56-21 v. Chardon (OH)
vs. Steubenville (OH)
6
6
St. Michael's College Kerry Blues
Toronto, ON
0-0
vs. UCC
7
7
Royal Imperial Knights
St. Catharines, ON
0-2
lost 51-27 v. Brook Hill (TX)
vs. Hun (NJ)
8
8
Trinity College Bears
Port Hope, ON
0-0
vs. SAC
PREVIOUS RANKING: Week 1, Week 2
About #CFC10 Non-Public Rankings:
The #CFC10 Non-Public rankings are high schools that are not public schools and/or who do not play in Canadian public school leagues.  The rankings include and consider all conference and non-conference games.  Non-public teams who play in Canadian public leagues will be considered in the #CFC50 high school rankings.  All players must be enrolled in the public or private school for it to be considered a school team and eligible for these rankings.  Private schools must have a ministry of education identification number to be considered.
All USA scores must be approved by MaxPreps and opponents must be a VARSITY team. Competitions that MaxPreps does not consider games, like scrimmages and showcases, will not be considered. USA team rankings change as the year progresses and this will be considered and updated in these rankings. The rankings are published Tuesday mornings (unless holiday).
The Fox 40 Prospect Challenge (FPC) is a series of elite showcase games that feature the best tackle football players from across Canada aged 10-19 years. Tournaments are played in Central Canada (ON) and the West Coast (BC).
PRESS RELEASE (Naming Rights)
CLICK HERE Fox 40 Prospect Challenge (FPC) – Central Canada
CLICK HERE FOR #CFCPFC FACEBOOK PAGE – CENTRAL 
CLICK HERE Fox 40 Prospect Challenge (FPC) – West Coast
CLICK HERE FOR #CFCFPC FACEBOOK PAGE – WEST COAST
GET REGISTERED! GET COACHED! GET RANKED!
Advocating for football prospects one story at a time.