The Fox 40 Prospect Challenge (FPC) is a series of elite showcase games that feature the best tackle football players from across Canada aged 10-19 years. Tournaments are played in Central Canada (ON) and the West Coast (BC).
CLICK HERE FOR #FPC FACEBOOK PAGE – CENTRAL
CLICK HERE FOR #FPC FACEBOOK PAGE – WEST COAST
GET REGISTERED! GET COACHED! GET RANKED!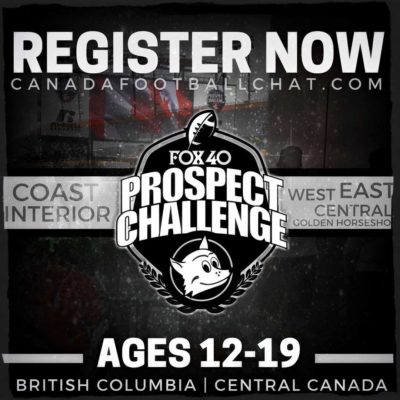 In the first-ever North Bowl, St. Joes Football North dropped the contest 37-10 to Clarkson. The boys from Ottawa held their own in the first half, only surrendering 13 points. In the dying seconds of the second quarter, St. Joes added their own field goal to the tally to make it 13-3. But, in the second half, Clarkson pulled away with the game. Despite the lopsided score, St. Joes defense stepped up in some key moments. Defensive back CFC100 Arthur Hamlin chased down and stripped the ball from running back Brendon Barrow, who had broken away from the crowd on a 35-yard run. Ian Whyte also had an interception in the final four minutes of the game. Running back John Lubemba was the team's sole touchdown scorer.
That's the game! Clarkson takes the first #NorthBowl 37-10 over St. Joes in a chilly night's contest

— Football North StJoe (@FootballNorthSJ) November 4, 2017
After driving five hours to be there, Clarkson Football North headed home from the North Bowl with the win. The team struggled to garner any offensive momentum for most of the first half. Their first touchdown came from a one-yard run by Kieron Yearwood with under five minutes in the second quarter. In the opening kickoff of the second half, receiver CFC100 Clark Barnes had an 80- yard return for the touchdown. CFC100 Cam Gilmore and Michael Lehman would also add majors in the third and fourth quarters. Kicker/punter Chris MacLean, who recently committed to the University of Toronto, had three field goals on the night. Quarterback Nick DeJesus was at the helm for most of the game.
The St. Andrew's College Saints were defeated 35-20 by TCS in the CISAA semi-finals this afternoon. A roster that was vastly weakened proved too much for us to overcome. The boys deserve an immense amount of credit for the way they battled and competed in a highly adverse situation. As is often said, adversity reveals character, and our boys left it all on the field today. (game recap courtesy of SAC Facebook)
Varsity Kerry Blues win CISAA Semi-Final 13-7 over UCC. Host CISAA Championship vs Trinity College Wednesday, November 8.

— St. Michael's C.S. (@SMCS1852) November 2, 2017
Canada prep cancelled their game against Loyola Blakefield this past weekend – no reason given. They will finish with an 0-6 record for the season.
RICC also defaulted this past weekend against Cheshire Academy and did not play. They will finish their season 1-8.
| | | | | | | |
| --- | --- | --- | --- | --- | --- | --- |
| Rk | Lst Wk | Team/School | City (PROV) | Overall Record | Last Result | Next Game |
| 1 | 1 | Clarkson Football North | Mississauga, ON | 4-6 final | won 37-13 v. St Joseph – North Bowl | Season complete |
| 2 | 2 | Canada Prep Raiders | Welland, ON | 0-6 final | cancelled v Loyola Blakefield (MD) | Season complete |
| 3 | 4 | St Joseph Football North | Ottawa, ON | 2-8 final | lost 37-13 v. Clarkson – North Bowl | Season complete |
| 4 | 3 | St. Andrew's College Saints | Aurora, ON | 7-2 final | lost 35-20 v. Trinity – playoff | Season complete |
| 5 | 7 | St. Michael's College Kerry Blues | Toronto, ON | 3-5 | won 13-7 v. UCC – playoff | v. Trinity – championship |
| 6 | 5 | Upper Canada College Blues | Toronto, ON | 4-4 final | lost 13-7 v. St Mike's – playoff | Season complete |
| 7 | 8 | Trinity College Bears | Port Hope, ON | 3-5 | won 35-20 v. SAC – playoff | v. St Mike's -championship |
| 8 | 6 | Royal Imperial Knights | St. Catharines, ON | 1-8* final | Forfeit loss v. Cheshire Academy (CT) | Season complete |
PREVIOUS RANKING: Week 1, Week 2,  Week 3, Week 4, Week 5, Week 6, Week 7, Week 8, Week 9, Week 10, Week 11
About #CFC10 Non-Public Rankings
The #CFC10 Non-Public rankings are high schools that are not public schools and/or who do not play in Canadian public school leagues. The rankings include and consider all conference and non-conference games. Non-public teams who play in Canadian public leagues will be considered in the #CFC50 high school rankings. All players must be enrolled in the public or private school for it to be considered a school team and eligible for these rankings. Private schools must have a ministry of education identification number to be considered.
All USA scores must be approved by MaxPreps and opponents must be a VARSITY team. Competitions that MaxPreps does not consider games, like scrimmages and showcases, will not be considered. USA team rankings change as the year progresses and this will be considered and updated in these rankings. The rankings are published Tuesday mornings (unless holiday).
Advocating for football prospects one story at a time.